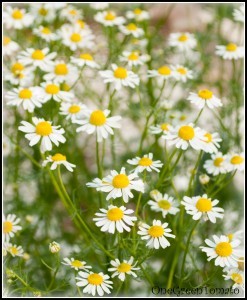 Chamomile
German chamomile: Chamomilla recutita. Roman chamomile:Chamaemelum nobile
Chamomile has been used as a medicinal herb for thousands of years, dating back to the ancient Egyptians, Romans and Greeks. It is used to treat to chest colds, sore throats, abscesses, mouth sores, gum inflammation, anxiety, insomnia, psoriasis, acne, eczema, hay fever, inflammation, muscle spasms, menstrual disorders, rheumatic pain, hemorrhoids, minor first-degree burns, stomach cramps, irritable bowel syndrome, indigestion, diarrhea, gas, inflammatory bowel disease, stomach ulcers, chickenpox, diaper rash, and colic. It is available as dried flower heads, tea, liquid extract, essential oil, capsules and topical ointment.
Researchers at the University of Pennsylvania School of Medicine studied the antidepressant properties of chamomile versus a placebo. They noted that anti-anxiety properties had already been observed. Using the Hamilton Depression Rating questionnaire, the researchers observed a significant reduction over time of depression in the participants of the chamomile group vs the placebo group. They concluded that chamomile may provide clinically meaningful antidepressant activity that occurs in addition to the anti-anxiety properties.
Dosage
Children:
To relieve colic: 1-2oz. of tea per day. Children under 5 years old should not take more than half a cup of tea per day.
Adults:
Tea: Pour 1 cup of boiling water over 2 – 3 tablespoons of dried herb, steep 10 – 15 minutes. Drink up to 3 – 4 times per day between meals.
Mouthwash: Make a tea as above, then let it cool. Gargle as often as desired. You may also make an oral rinse with 10 – 15 drops of German chamomile liquid extract in a cup of warm water, and use 3 times per day.
Inhalation: Add a few drops of essential oil of chamomile to hot water and breathe in the steam to calm a cough.
Bath: Use ½ cup of dried flowers per bath, or add 5 – 10 drops of essential oil to a full tub of water to soothe hemorrhoids, cuts, eczema, or insect bites.
Poultice: Make a paste by mixing powdered herb with water and apply to inflamed skin.
References:
Amsterdam, JD., Shults, J., Soeller, I., Mao, JJ., Rockwell, K., Newberg, AB. Chamomile (Matricaria recutita) may provide antidepressant activity in anxious, depressed humans: an exploraty study. Altern Ther Health Med. Sep-Oct 2012;18(5):44-9. Retrieved from: http://www.ncbi.nlm.nih.gov/pubmed/22894890
Ehrlich, SD. German chamomile. (March 17, 2013). University of Maryland Medical Center. http://umm.edu/health/medical/altmed/herb/german-chamomile