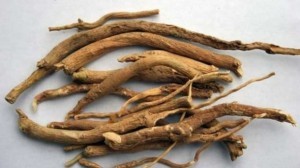 Ashwagandha - Withania somnifera
The benefits and applications of Ashwagandha abound. Known also as Winter Cherry, it has been used for over 3,000 years. The root of this very special plant contains a wide variety of beneficial chemical constituents including several powerful anti-oxidants such as superoxide dismutase, and glutathione peroxidase. Traditionally Ashwagandha has been used as a general tonic herb, increasing longevity and endurance and it can be an important herb for rebuilding health after deep level exhaustion or debility as it improves adrenal function and enhances immunity. It is less stimulating than the Ginsengs, making it a good choice for those with nervous system related irritation such as insomnia and anxiety. Ashwagandha's anti-inflammatory properties lend its use in arthritis and other inflammatory conditions.
This herb is attracting attention as effective in improving cardio-respiratory endurance in athletes. In a 2012 study on 40 elite cyclists after 8 weeks of supplementation with Ashwagandha the athletes showed a 13% improvement in VO(2)max as compared to the control group where no improvement was achieved.
Ashwaganda also shows promise in helping with chemo-therapy induced fatigue in cancer patients. For example, in a trial on 100 patients with breast cancer in all stages undergoing either a combination of chemotherapy with Ashwagandha or chemotherapy alone. The patients taking the herb demonstrated improvement in both cancer-related fatigue and an improvement in quality of life.
J Ayurveda Integr Med. 2012 Oct;3(4):209-14. doi: 10.4103/0975-9476.104444.
See comment in PubMed Commons below
Altern Med Rev. 2000 Aug;5(4):334-46.
See comment in PubMed Commons below Withania somnifera monograph.
Altern Med Rev. 2004.
Integr Cancer Ther. 2013 .Effect of Withania somnifera on the development of chemotherapy-induced fatigue and quality of life in breast cancer patients. Withania.